6 Effective Ways to Attract and Keep Rockstar Employees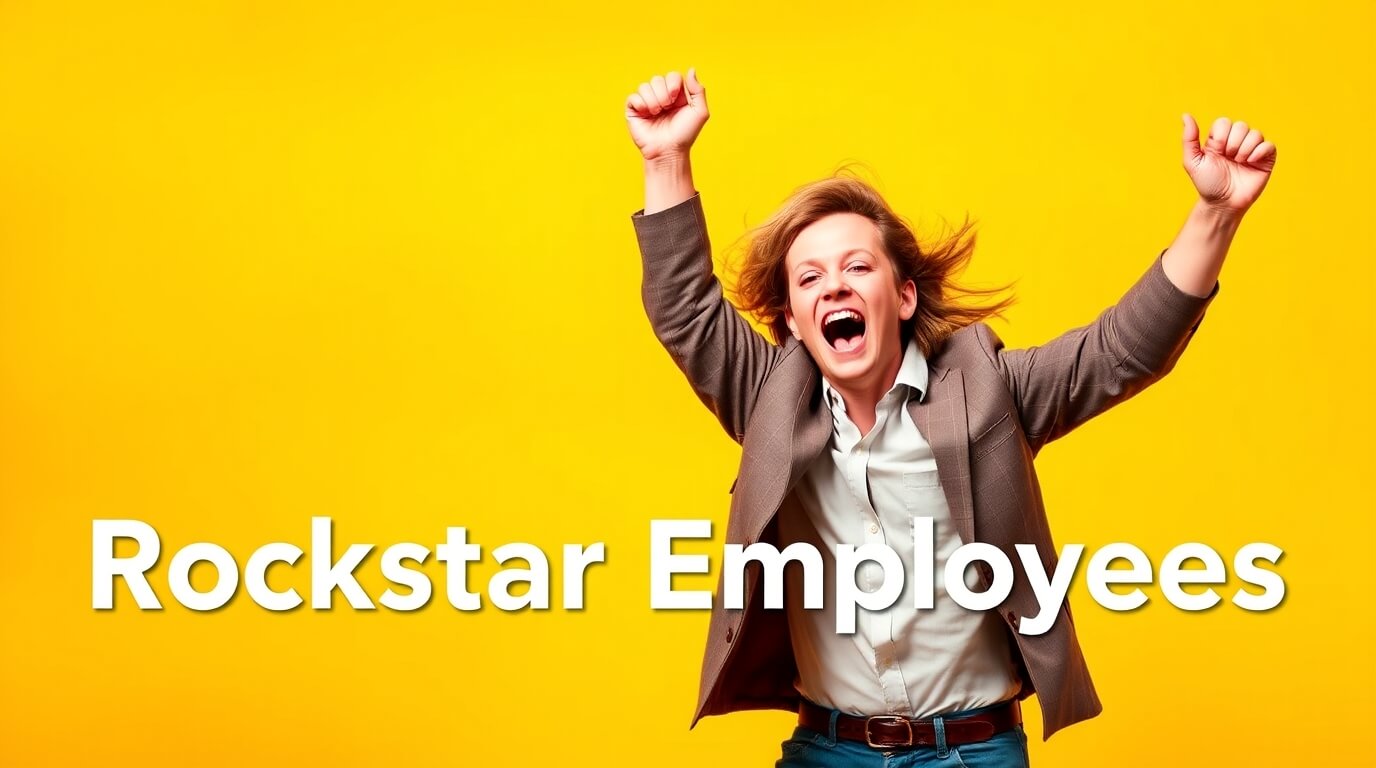 Download Your Guide to Hiring Rockstar Employees
As a business owner, you understand the importance of having a reliable and talented team. Your employees are not only a reflection of your business but also crucial to its reputation and success. However, attracting and retaining great employees can be a challenge.
Below are some valuable tips and strategies to help you navigate the hiring process and create a work environment that keeps your employees happy and engaged - and loyal.
1. Be Picky, Not Desperate
When it comes to hiring, it's essential to be selective and not settle out of desperation. Remember that your company deserves excellence, and compromising on quality can have long-term consequences. Avoid making impulsive decisions based on short-term eagerness or need.. Take the time to find candidates who align with your values and possess the necessary skills and experience.
When setting hiring goals, envision the business you aspire to become, not just where you are currently. Hiring with future growth in mind ensures you attract individuals who can contribute to the success of your business in the long run. Align your hiring process with your long-term vision, and watch your company thrive.
To break the cycle of hiring the wrong people, embrace the concept of being overstaffed rather than understaffed. By constantly interviewing and hiring, you can be one step ahead of the game. This approach allows you to assess potential candidates thoroughly and build a team of exceptional individuals. It also enables your business to grow without being limited by employee count. Just be transparent if you can't offer a full schedule initially.
2. Create Value to Retain Employees
To keep your employees engaged and committed, offer more than just a job.
Compensation plays a significant role in their satisfaction, of course, so ensure you provide a wage that is fair and reflects their value. We recommend at least two and a half times your state's minimum wage. This is one way to reduce burnout.
Additionally, make them feel valued by recognizing their contributions and emphasizing how their work positively impacts the lives of others. Make sure they understand how important they are to you, your company, and your vision. Gather reviews from your clients and make them feel great about the work they do.
Employees just want to feel appreciated, and any gesture, no matter how small, will go a long way. If they constantly feel like you truly value them as people, they will work harder to make sure you are proud of them and take criticism much better.
Many small business owners believe that offering benefits is completely out of the question. However there are a lot of benefits that you can offer without breaking the bank. Benefit plans like Aflac and Telemedicine are extremely inexpensive - around $10/mo per employee. Consider finding a business consultant who specializes in benefit packages to see what is available and affordable.
Get creative about bonuses and gifts. For example, for jobs that are physically demanding, gift certificates for monthly massages would be a great idea. You may be able to find a massage therapist in your area that will be willing to barter, you can offer this benefit at a really reasonable rate.
3. Take Training Seriously
A solid training program is one that is structured and dedicated to making sure that a new trainee feels 100% confident in their skills. Without a clear framework, you'll find inconsistency among your employees. A solid framework will also eliminate subjectivity, allowing both you and your trainee to truly measure the quality of work.
A company with a strong training process in place is also one that is taken seriously by employees and clients alike. Employees want to know what is expected of them, and clients feel more at ease knowing they will receive the same quality of service every time.
And training doesn't end when a new hire has learned the basics. Continued development of your employees is essential, too. Without it, you run the risk of breeding complacency. Make sure to keep your techniques top of mind by introducing new ideas and revisiting original training methods.
Consider diving deep into the personalities of your employees by having them take something like the D.I.S.C Assessment. Both you and they will learn some interesting aspects of their personalities and how that factors into their job performance. Prioritize ongoing training to enhance their skills and boost their confidence.
4. Balance Critique and Praise: The Sandwich Method
Effective communication with your employees is vital for growth and improvement. There is a time for praise and a time for critique. Never forget that you're their employer, not just their friend. You'll earn their respect if you set clear expectations and follow through with them. Try using the Sandwich Method when providing constructive criticism:
Start with a genuine compliment.
Address areas for improvement.
End with another positive note.
This approach ensures that constructive criticism is received positively and encourages employees to strive for excellence.
5. Strive to Be an Effective Leader
At the end of the day, your business is YOUR responsibility. It's up to you to attract, hire, train, and nurture your employees. And that means you must always remain the boss.
But just like the ongoing training you should be providing your employees, you should be seeking out leadership training for yourself and putting it to good use. And tell your team about it. When they see that you expect the same level of development from yourself as you do them, you'll earn their respect.
Your team wants stability and to know you're in charge. Be confident in your leadership, expectations, and the direction you're taking your business and team.
Create an employee handbook that covers everything from dress codes to requests. If you have all these things in place, your employees will feel confident that they work for an owner that knows exactly what he or she is doing, which can eliminate a lot of confusion and conflict.
While it's natural to develop friendly relationships with your employees, it's essential to maintain professionalism. Clearly define the line between boss and friend to ensure effective leadership and respect. Having an operations manager or supervisor between you and your employees can help maintain that separation and enhance overall professionalism.
6. Foster a Positive Company Culture
Building a great company culture starts with giving back to your community: your company community, your industry community, and your local community. Encourage open communication, support each other, and create a workplace where everyone feels valued and motivated.
Consider joining a non-profit organization like Cleaning For A Reason, where you can provide free cleaning services to those battling cancer. In addition to making a difference, this fosters a sense of purpose among your employees.
Get involved with your local civic organizations, public schools, hospitals, and charities. When you put your energy into areas beyond your business, you think bigger. And bigger means growth - personal and professional.
In Conclusion
Attracting and keeping great employees is a continuous process that requires careful consideration and investment. By implementing these strategies, you can create a work environment that attracts top talent and keeps them motivated, ultimately contributing to the long-term success of your business.
Remember, it's not just about finding great employees—it's about nurturing and retaining them through ongoing support, fair compensation, and a positive company culture.
Download our FREE guide: Find and Keep Rockstar Employees.
If you have any questions about how a virtual assistant can help you with your business, please feel free to contact us: Task Away VA